Get ready to Rock Your Face Off!
98Rockfest | Sunday, April 22nd | 12pm
Exchange Park Fairgrounds – Ladson, SC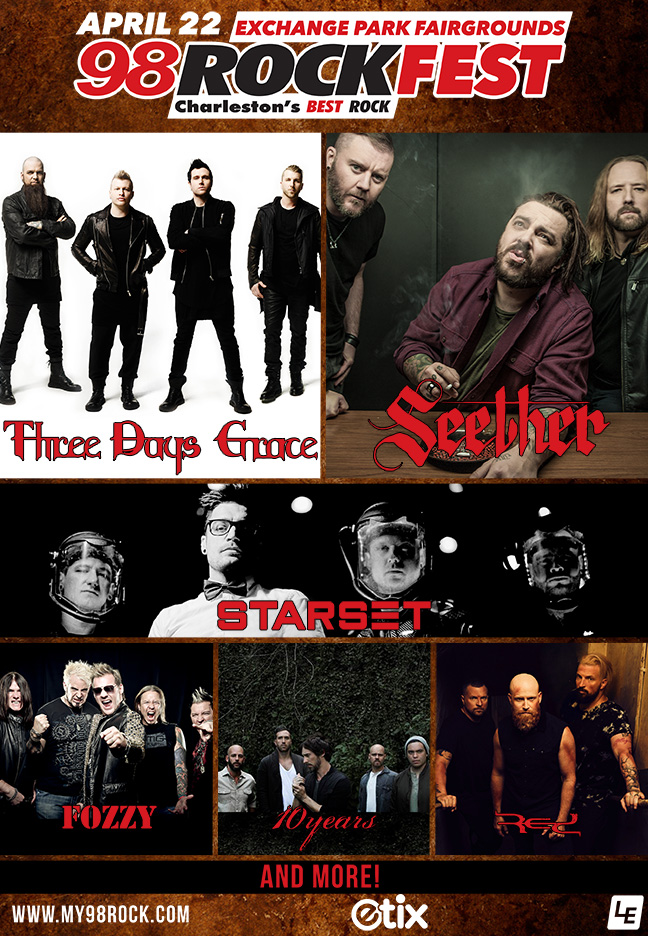 Rockfest FAQ
Are there ID or minimum age requirements to enter the event?
98 Rockfest is an all-ages event, and entrance tickets are needed for all attendees.
Special areas: 
You must be 21+ with ID to enter the VIP area and the liquor bar. Sorry, no exceptions.
What are my transportation/parking options for getting to and from the event?
There is plentiful parking on site
There is NO overnight parking in any of the Fair's general parking lots.
Where actually is the Exchange Park Fair?
The Exchange Park Fair is in Ladson, SC 9850 US-78, Ladson, SC 29456
What can I bring into the event?
No:
Aerosol Products/Aerosol Cans
Audio Recording Devices
VPs or MODs or Liquid Refills for E-Cigs
Bicycles, Skates, Scooters or Skateboards
Chairs or Coolers
Chains or Chain Wallets
Detachable Lens Cameras
Drones or Remote Control Aircraft, Cars or Toys
Drugs or Drug Paraphernalia, Marijuana, Marijuana products
Fireworks, Explosives or Road Flares
Flags
Flyers, Samples, Giveaways or Promotional Items
Glass or Metal Water Containers
Glow Sticks or LED Gloves
Guns, Ammunition or Tasers
Hula Hoops
Hoverboards or Segways
Instruments
Knives, Weapons or Sharp Objects
Laser Pointers
Metal, Steel or Aluminum water bottles
Outside Food or Beverage
Pepper Spray or Mace
Pets or Other Animals
Selfie Sticks, Tripods or Narcissists
Sharpies, Markers or Paint Pens
Tarps
Tents or Sleeping Bags
Toy Guns, Water Guns or Sling Shots
Totems
Umbrellas
Video Cameras
Yes to all below
Blankets (Small) & Beach Towels
Cameras (Non-Pro Digital and Film)
Chapstick and Lip Balm
Sealed/Unopened Cigarettes and Lighters
E-Cigs and Vape Pens (mid sized) and Single Use Minis/Cig-a-likes
Ear Plugs
Eye Drops
Fanny Packs and Hip Bags
Gum
Hats
Makeup
Mobile Phones and Chargers
Purses and Handbags
Service Animals
Sunblock (Non-Aerosol)
Sunglasses