The Party is back! Join us every Friday afternoon for the 18th season of Party at the Point at the Charleston Harbor Resort and Marina!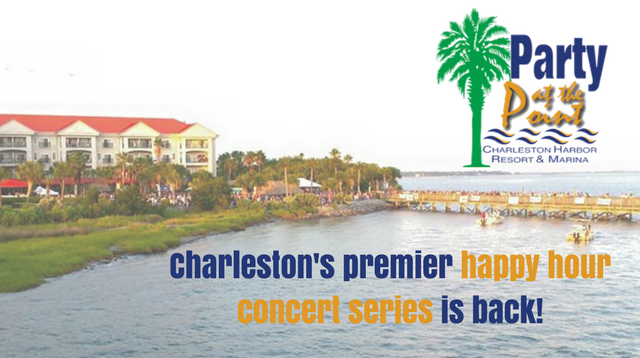 We kick off the season on Friday, April 27th with Departure – The Ultimate Journey Tribute Band, and the fun doesn't stop there!
And this year, you can skip the lines and get your tickets in advance!
Your 2018 Lineup:
April 27th – Departure: The Ultimate Journey Tribute Band
May 4th – The Dead at The Point with The Reckoning
May 11th – The Dave Matthews Tribute Band
May 18th – Sadler Vaden Band & Tom Petty Tribute
May 25th – Idlewild Revival: A musical tribute to The Allman Brothers
June 1st – 90s Night with Broadcast 90
June 8th – The Bridge Homegrown Night with Guilt Ridden Troubadour & Sideshow Americans
June 15th – Reggae Night with The Dubplates
June 22nd – 20 Ride: Zac Brown Tribute Band
June 29th – Sol Driven Train with Fusion Jonez
For additional information, including ticket prices, band bios, and more, visit the Party at the Point website. And don't forget to purchase your tickets in advance!
Brought to you in part by The Charleston Harbor Fish House, BudLight, Naked Turtle Rum, The Law Offices of David Aylor, The Official Afterparty at Red's Ice House, The Sound of Charleston 105.5 The Bridge, and Charleston's Best Rock 98Rock.