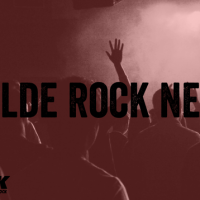 Watch: Guns N' Roses vocalist Axl Rose releases new song via a 'Looney Tunes' cartoon
Rose appeared as an animated character in the show 'New Looney Tunes' to release his first song in ten years.
The frontman of the rock band Guns N' Roses, Axl Rose, has swapped his real band members for animated ones to release his first song in ten years.
Rose appears in an episode of the animated series New Looney Tunes, which airs on the streaming service Boomerang. In a clip from the episode, it seems that the singer is playing himself and is accompanied by Bugs Bunny. According to Pitchfork, the plot of the episode includes Rose singing a song titled Rock the Rock,to prevent an asteroid from colliding with the earth.
'You're a control freak': Five Finger Death Punch's Ivan Moody and Zoltan Bathory square off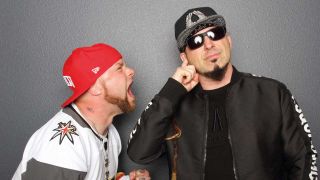 (Image: © Morat)
It's not every day that Metal Hammer gets a lift home in a bright orange Lamborghini. But then, it's not every day that we hang out with Five Finger Death Punch in a Las Vegas recording studio wallpapered with their gold and platinum discs. And it's certainly not every day that we get such a candid insight into the band. We begin with the simple premise of guitarist Zoltan Bathory (owner of said Lamborghini) and vocalist Ivan Moody asking each other questions – everything they've always wanted to know about each other. We end with tears, and a bond so strong you could use it as superglue. Here's what happened…

Zoltan: Do you remember the first time you met me? What were your first impressions?
Ivan: "The first time I actually met you was when I came to LA to audition. You and I had been talking via email, on MySpace of all things. You'd sent me Salvation, The Bleeding and Meet The Monster, and I came out with no expectations, not really wanting anything to do with the music industry, and you just took me under your arm the second I came in."
Zoltan: "You turned around and showed your back!"
Ivan: "Yeah, 'cos I was nervous. I remember you sitting there texting already, and I was like, 'Oh, I blew this one! This is gonna suck!' But you were already telling people that I was the guy. Then we went to the Rainbow and you bought me dinner."
Zoltan: "[To Hammer] I'd already heard him sing, so I knew he was the guy. But it took some time to get him to LA. I actually bought him his plane ticket and cancelled the ticket back, so he was stuck with us! I always have to trick him into shit. By the time he realised he was a prisoner, we were seven songs in! We had great conversations. He's a lunatic, which is something you can't fake. I had a megaphone in my car and he was hanging out of the window, screaming at people in Hollywood."
Ivan: What's the stupidest thing you've ever read about us?
Zoltan: "Jesus Christ, where do I start? Well, we didn't have
a record label, a manager, or a booking agent, and without those things we were already getting big. Then we were on an independent label with a shoestring budget, and people were like, 'These big-money, corporate bands!' Our first record was done in my fucking living room! It doesn't get anymore DIY than that, but we'd get this corporate thing, as if it was contrived."
Ivan: "I'd have to agree with you. That's one of the most irritating ones for me, too."
Zoltan: Why do you hate doing press so much?
Ivan: "I'm glad you asked, because we've never really talked about this. It's not that I don't like being interviewed, it's that every time I talk, things are taken out of context, and they put all capitals on something that was a minute piece of the interview. I feel like I'm exploited a lot. It's like they want me to fuck up, because that's how they get a good story. You guys have a great gift of gab and great filters; you're less emotional. I don't Tweet or have Facebook, I don't do any of that stuff. If you read anything on Blabbermouth, they fucking hate me, and I've never done anything wrong to them. TMZ has done so much shit about me! But I love doing interviews when I'm not being taken advantage of."
Zoltan: "I'm like Spock and he's like Kirk. You're all emotion, because you're the singer. So it's easy to get to you because you react. But I don't read the garbage on Blabbermouth, and when I do it's funny. I don't like the lame ones like 'Five Finger Donkey Punch'. But sometimes people say incredibly rude things that's really funny shit, and you've got to give it to them."
Ivan: What's the biggest thing that drives you crazy about me?
Zoltan: "[To Hammer] Well, thank God, the thing that drove me crazy is now solved. When we got together, I felt like we were unbeatable, and I loved that feeling. Then, when Ivan started drinking more and more, I felt like there was an unpredictability. Which is great in some ways, but it started to happen in a way that was like, 'Is he gonna fall off stage? Am I gonna get woken up one day and he's dead in his bunk?' I felt like it wasn't fair that he was putting the rest of us in jeopardy and it wasn't fair that he was making me worry about him all the time."
Ivan: "It took me a long time to believe that I belong here.
I always thought other singers were better than me, and I felt like I didn't deserve it. It was self-sabotage, and it took the longest time for me to get my head out of my ass. It makes me want to cry, actually. But I realised that it was never just about me, and it was selfish to think that way. For the longest time I figured I was gonna die from drinking. But once I stopped, it was different. Now I don't know how I'm gonna die. I'm curious, actually. But anticipation of death is worse than death itself, and that was something I was avoiding, because I'm scared. But anyway, on to the answer for me… there are very few things that I dislike about you. You sometimes overwhelm yourself, because you've got your hands in so much stuff, the monster trucks, martial arts… sometimes it gets to be too much, because I miss the days when it was just Death Punch. But that's just me being selfish. There's really nothing I dislike about you."
Zoltan: What's my worst habit?
Ivan: "You are a control freak, to some degree. You have a tendency, if something doesn't go the way you want it, to chop it off at the head. But you don't really have any bad habits: you eat well, you have the cleanest dreadlocks I've ever seen…"
Zoltan: "But I'm quick with the execution?"
Ivan: "Yeah, if you don't like it, it's a duck and you shoot it out of the sky!"
Zoltan: "I can see that. But it comes from looking three moves ahead…"
Ivan: "That's how he drives, too! He drives like Tetris! I'm really nervous in cars, more than nervous, I hate other people driving, and I drive like a grandma! Zo was doing almost 200mph to LA, and I started noticing that he was looking two to three cars ahead. But the control freak…"
Zoltan: "But I can see three moves ahead! See,
I cut him off because I knew what he was going to say! I calculated what he was going to say! But I can see why that frustrates the shit out of him!"
Greta Van Fleet land 'Saturday Night Live' gig
Fresh off four Grammy nominations, Michigan rockers Greta Van Fleet are about to have another huge performance in front of a national audience.
The Frankenmuth four are scheduled to be the music guest on the upcoming January 19, 2019 episode of "Saturday Night Live" on NBC, performing two songs. Which songs will they sing? "You'll need to tune in to find out," their publicist tells MLive. Actress Rachel Brosnahan from "The Marvelous Mrs. Maisel" will be the show's guest host.
This will be the group's second nationally televised performance in the U.S. They played "The Tonight Show starring Jimmy Fallon" on July 26, 2018, receiving a standing ovation after performing "When the Curtain Falls" from their first full-length album, "Anthem of the Peaceful Army."
The group spent much of 2018 touring to sold out concerts all over the world. They just finished 2018 with three sold out shows at the Fox Theatre in Detroit on December 27, 29 and 30, their biggest shows in Michigan to date.
GRETA VAN FLEET IN DETROIT: HOW THEY SOUNDED, PICS, SETLIST & MORE
The "Saturday Night Live" gig comes following the band's Grammy nominations for Best New Artist, Best Rock Performance for "Highway Tune," Best Rock Song for "Black Smoke Rising," and Best Rock Album for "From the Fires."
"From the Fires" is their second EP. The band dropped their first full-length album, "Anthem of The Peaceful Army," on October 19, 2018. It soared to number 1 on Billboard's Top Rock Albums Chart and to No. 3 on the Billboard 200 Albums Chart behind the "A Star is Born" soundtrack and Future & Juice's "WRLD On Drugs."
In 2019, they have concerts scheduled in Japan, Australia, New Zealand, Italy, Germany, Netherlands, Spain, Belgium, France, The UK, Mexico, Belgium, Argentina, Chile and Ireland before headed back to the U.S. and Canada for shows in May.
Dave Grohl May Form Supergroup With Surprising A-List Actor
Page Six reports that Foo Fighters frontman Dave Grohl recently discussed doing a recording project with The Avengers star Jeremy Renner when they were at a Lady Gaga show afterparty in Las Vegas.
"Jeremy Renner — who, sources told Page Six way back in 2015, was busy in the studio trying to record an album — was spotted chatting up Foo Fighters front man Dave Grohl at On the Record at Park MGM's opening party in Las Vegas.
'They were talking about getting together and writing some music,' said a spy.
The Avengers star, who plays keyboard, guitar and drums, showed off his singing skills at the bash, belting out 'New York State of Mind' in one of the new spot's three hidden karaoke rooms."
Renner was friends with Chris Cornell, who recorded "Live to Rise" with Soundgarden for the first Avengers film in 2012.
A fan named Micah recently posted a photo with Grohl on Instagram, "This just in: Micah caught covertly interviewing for a new lead singer/guitarist of Big Mother Gig. #losangeles #indierock #bigmothergig #alternativerock #livemusic #powerpop #LA #milwaukeerocks #milwaukee #midwest #altrock #music #foofighters #davegrohl."
Dave Grohl is planning a mysterious Foo Fighters Super Bowl themed video that is expected to be released next month. Foo Fighters will tour in Europe this summer.
ROB ZOMBIE Was Joined By NIKKI SIXX, MARILYN MANSON For 'Helter Skelter' Cover At Last Night's OZZFEST (Video)
Rob Zombie was joined by Marilyn Manson and MÖTLEY CRÜE bassist Nikki Sixx for a performance of THE BEATLES classic "Helter Skelter" during last night's (December 31)Ozzfest, which took place at the Forum in Los Angeles, California. Fan-filmed video footage of their appearance can be seen below.
This past July, Manson and Zombie released a studio version of their cover of "Helter Skelter", which Zombie described to Rolling Stone as "heavier, weirder and more groove-oriented." MÖTLEY CRÜE covered the song on 1983's "Shout At The Devil" album, and also released it as a picture disc, the jacket of which pays gruesome homage to the track's laterCharles Manson murder connections.
Asked how the idea for him and Manson to cover "Helter Skelter" came about, Rob toldRolling Stone: "We had been talking about doing something together for these shows — that he should come onstage during my set and we'd do a song. But we couldn't think of what song. After we talked, later that night I was home and I just thought the obvious song is 'Helter Skelter'… It's so obvious that neither one of us thought of it! And then I figured, 'Well, rather than us just doing it onstage, why don't we take it one step further and record it and put a new spin on it?' That way, rather than just doing some impromptu jam together, now the fans will go, 'Oh, there's the song I've already heard, and now they're doing it."
Regarding how they approached the song in the studio, Rob said: "Well, my thought when it comes to covers is to stick close to the original. Because in my mind, what's the actual point of doing a cover if no one can recognize it? So with our version, I think it varies as much as it can from the original, but not so much that it becomes a different song."
In addition to Zombie and Manson, Ozzfest featured performances by headliner Ozzy Osbourne, Jonathan Davis of KORN, and BODY COUNT (featuring Ice-T).
Van Halen In The Studio For 1984 Anniversary
(STORY FROM ANTIMUSIC.COM)
---
01-09-2019
The 35th anniversary of Van Halen's blockbuster album, "1984", is celebrated in the latest episode of the syndicated radio show In The Studio With Redbeard: The Stories Behind History's Greatest Rock Bands. The show put out the following details:
Says Redbeard: "To truly comprehend just how massively popular this album was, it helps if you actually write it out numerically: 12,000,000 copies of Van Halen's sixth album, 1984 , were sold in the US alone in the three decades since it was released. Propelled by Van Halen's very first #1 hit "Jump", three million of those were sold in America in the first ninety days! Already America's most popular hard rock band prior to its release, 1984 propelled the Pasadena quartet of innovative guitar whiz Eddie Van Halen, drummer brother Alex, bass player and unmistakable harmony singer Michael Anthony, and showman extraordinaire David Lee Roth into the stratosphere of rock's elite with additional songs "Panama", "I'll Wait", "Drop Dead Legs"," Top Jimmy", and the video which made even MTV blush, "Hot For Teacher".
"But as any high-flying throttle jockey can attest, the view from the top is exhilarating, but the dizzying height is disorienting and there's no air up there to breathe. Like water on pavement, celebrity seeks out every crack and crevice in a relationship, and when relations turn chilly, the cracks can quickly expand into chasms. The 1984 album and subsequent sold-out tour closed that chapter on the original band, with the Van Halen story becoming a never-ending soap opera that has been constantly controversial ever since.
"While the facts contained in this interview remain true and accurate over time, the opinions expressed here by Eddie, Alex, and Michael clearly are a snapshot of just one of the many chapters in this saga, at a time before David Lee Roth was invited back into Van Halen, as well as before Michael Anthony was dismissed." Stream the special here.