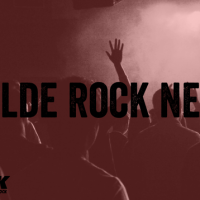 John Frusciante Makes Surprising Red Hot Chili Peppers Decision
Former Red Hot Chili Peppers guitarist John Frusciante has surprisingly gotten rid of aBlood Sugar Sex Magik multiplatinum RIAA award, a fan has reported on Reddit. While this would appear to be sad news for Red Hot Chili Peppers fans hoping for Frusciante to return, it could just be another example of his generosity.
scotthilk posted a photo and wrote, "The newest addition to my musical man cave museum. A prized possession!"
A fan named sidthekid08 asked, "Wow!! That's amazing. Why would he get rid of it?"
scotthilk responded, "Short answer – most band members get several awards. He would have gotten many different awards for different milestones of sales, and that is per album. Also, JF was notorious for giving away memorabilia to managers, friends, etc – as you can imagine from his personality and departure from RHCP, he is not much into these types of material objects."
Reclusive former Red Hot Chili Peppers guitarist John Frusciante has announced a 10-year anniversary vinyl reissue of The Empyrean.
The release is described as, "Recut by John Frusciante and Bernie Grundman from the original analog tapes. This double disc LP includes a download card of the album plus bonus tracks in hi-resolution.
Preorders will ship the week of March 25th. Official release date is March 29th."
Rare recording of unreleased Green Day track "Stay" surfaces from 1989 gig: Stream
The dust dates back to when the band was opening for Killdozer at Berkeley Square
Earlier this month, we celebrated 25 years of Green Day's breakthrough albumDookie. However, the East Bay rockers had been punching the punk rock clock long before we all were singing "Basket Case" in our living rooms.Case in point: A rare recording of unreleased track "Stay" has surfaced online this week, dating all the way back to the band's opening gig for Killdozer at Berkeley Square on July 22nd, 1989. It's surprisingly clean, too, sounding professionally recorded even.

For awhile, the track was dubbed "World vs. World" by fans. However, original drummer John Kiffmeyer cleared that up in 2017, while also confirming that the track was originally written for an indie flick being made by Billie Joe Armstrong's brother.

(Ranking: Every Green Day Album From Worst to Best)

You can stream the track and consult the show's setlist for context below. If that's not enough, revisit our recent episode of Album of the Week in which host DC Hendrix and writer Kayleigh Hughes discuss the ensuing legacy of Dookie.

After that, you'll probably wanna grab some Green Day vinyl over at ReverbLP.

Setlist:
Sweet Children
I Want to Be Alone
Going to Pasalacqua
The One I Want
16
Knowledge
Don't Leave Me
I Was There
Jennifer (Unofficial title; only known performance)
1000 Hours
Green Day
At the Library
Disappearing Boy
Stay
Maybe Forever (Unofficial title; only known performance)
Dry Ice
Ex-Smashing Pumpkins Bassist Announces Huge Comeback
Former Smashing Pumpkins and Hole bassist Melissa auf der Maur has announced that she is traveling to Sweden to work on a new musical project.
"Landed overseas this sunny Swedish morning to take a deep dive into this dome with sound makers and listeners alike @lumenprojectstockholm Light. Light. Light. Shine my way back to my bass ….. @nato911 @sarahgvanburen Tak very much."
In an NME interview a few months ago, Billy Corgan was asked if Melissa auf der Maur was ever considered for The Smashing Pumpkins reunion.
"It's not even worth getting into that history," replies Corgan. "I don't have any ill will towards Melissa, but she never considered herself to be part of the unit and made it very clear that she didn't ever want to be considered part of the unit posthumously. It was kind of like, 'I'll do this for this window'."
James Iha said about the Pumpkins' past, "There was drama with us all in the past, but it feels like a movie I watched a long time ago."
Melissa auf der Maur discussed not even knowing the Pumpkins were on tour celebrating their 30th anniversary in a September 2018 Stereogum interview.
"I didn't realize it was their 30th, I just all the sudden saw they were playing Madison Square Garden. I was like, 'Oh, whoa, how did that happen? And James is part of it!?' Especially because I don't read news online. I read local newspapers. I didn't know it was happening until recently. I mean, yeah, full-circle in terms of that band. That's a band that changed my life. It was in 1991. So their 30 years, what're they saying is their 30 years?"
Nirvana's famed 'Live at the Paramount' concert is being released on vinyl
The original concert took place on October 31, 1991
Nirvana's 'Live At The Paramount' Seattle concert is finally getting a release on vinyl.
The famed concert, which took place in 1991, received a DVD and Blu-ray release to coincide with the its 20th anniversary celebrations of 'Nevermind' in 2011.
Now, according to The PRP, 'Live At The Paramount' is set to be released as a double LP set on April 5. You can see footage from the original concert, the only one of the bands to be shot on 10mm film, here:
Bonus features on the vinyl release include a 12X24″ poster insert and a cloth VIP replica pass of those handed out during the original concert.
Earlier this month, it was announced that a new book on Nirvana, Serving The Servant: Remembering Kurt Cobain was also set for release in April.
Written by the band's co-manager from 1990-1994, Danny Goldberg, the book is set to chronicle Goldberg's personal memories from the beginning of their partnership untilCobain's death in 1994. It is also said to include interviews with Courtney Love, Krist Novoselic as well as anecdotes from other family and friends.
Speaking about the project last year to The Bookseller, Goldberg said: "I began to work with Kurt the year before 'Nevermind' was recorded and remained close to him until days before his death."