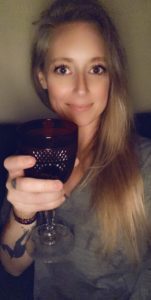 Middays with Lindsay
Tune in every weekday from 10am to 3pm for MIDDAYS WITH LINDSAY & on Saturdays from 3pm to 7pm!
lindsay@radioofcharleston.com
Hometown: Hays, Kansas
Hobbies: Going to live music shows, writing, reading, any kind of outdoor activity, watching sports (Go KC Chiefs!), laying poolside or on the beach, and playing with my fur babies (Tater & Pickles).
Favorite Band: Deftones, hands-down – greatest band in the World.
Bands/Artists I've Met: Flyleaf, In This Moment, P.O.D., Ded, Seether, Fozzy, Starset, Black Moods, Five Finger Death Punch, Halestorm, Three Days Grace, Rival Sons, Underoath, Pop Evil, 10 Years, Red, Fire from the Gods, Chance the Rapper, Jeremih and Avant.
Favorite Foods: Sushi all the way. I love food in general, though. You don't get a body like mine by not eating.
Cocktail: I'm more of a beer/wine kind of girl. If I go for liquor it's always Jameson & ginger.
Vacation Spot: Probably Washington. It's beautiful up there and I love to hike.
Books: Way too many to list. I'm a huge nerd.
Movies: Step Brothers is my all time favorite comedy. Horror, Thriller/Psychological, Sci-Fi/Fantasy and Comedy movies top the watch list. Absolutely don't do love stories…I've never seen The Notebook.
TV Shows: Again I stick with the Horror, Thriller/Psychological, Sci-Fi/Fantasy and Comedy TV shows. I binge hardcore.
Family: Kids make me nervous. I have two dogs, though! My family is massive – let's just put it this way, I have 34 first cousins.
Brush With Greatness That Didn't Go Well: I don't think I've had any?? I'm pretty much the coolest person I know.