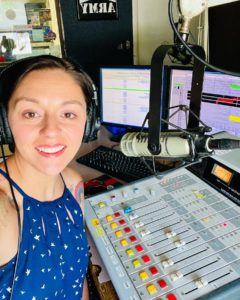 Sadie Black
When Sadie was a little girl, she listened to the radio like it was her job. She listened to industry greats like Casey Kasem and Paul Harvey as a kid and thought "they have the coolest job in the world." She got in trouble in school all the time for talking. She wanted to make people laugh, and was considered a jabber jaw by her friends and family. 
When she was 10, her mom won a radio contest. They went to their local radio station and recorded a commercial for a local restaurant called The Shack. Sadie barely remembers the experience, but when she got her first radio job, her mom said "do you remember what you told me when we did that commercial? You said 'this is what I want to do when I grow up.'" 
In her teen years, she made mixtapes as a hobby. She would listen to the radio for hours, waiting for that one song to come on, so she could quickly hit record. Curating thoughtfully planned out playlists has been a passion of hers for years.
When she was 19, she auditioned to be on a morning show for a classic rock station. She got through a few rounds, but was ultimately not chosen. At that point, she thought that radio was a pipe dream. It was years later that her big break came. She did an interview at Magic 98.5 in Columbia, and when she told the host that she wanted to be in radio, he offered her a job. Years later, she still has a huge passion for local radio.
Sadie was born and raised in Connecticut, but is a Southern girl at heart. She moved to Columbia, SC and lived there for 12 years; it's also where she started her radio career. She graduated in 2016 from the University of South Carolina with a Mass Communications/Journalism degree, and she's a die-hard Gamecock! 
Sadie loves entertaining, producing, editing, social media, brand management, public relations, cooking, and traveling. When she's not on air, she spends time with her husband, who serves our country in the US Navy, and her 3 wonderful children. She also has 2 dogs and 2 bearded dragons.  
You can find out more about Sadie on her website: