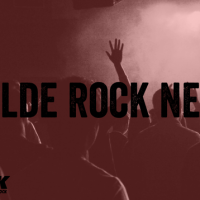 Watch Metallica Play "Here Comes Revenge" Live for the First Time Ever
Metallica have been out on their WorldWired tour for several years now, but they're still finding new ways to spice up their live sets. Their stop at the United Supermarkets Arena in Lubbock, Texas on March 2 saw the first-ever live performance of "Here Comes Revenge," from 2016's Hardwired… to Self-Destruct. You can check out fan-filmed footage of the song above.
In 2017, Metallica's James Hetfield talked to Marky Ramone for Virgin Radio about the origins of the song: "'Revenge' itself, it really came from … There's a fan of ours, and I was just trying to put myself in their shoes," Hetfield said. "There's a couple that showed up at so many shows, and they got into Metallica because their young daughter was a big fan, and she had gotten killed by a drunk driver."
He continued: "It just hit me: 'How can you guys find something positive in the world to connect you to your daughter again' — which was Metallica, the music she loved — instead of just snapping and wanting to just become bitter and attack whoever did this?," added Hetfield. "So I'm kinda putting myself in those shoes and how revenge must feel really powerful and great to do, but it doesn't satisfy that urge. I don't know." (via Loudwire)
For all upcoming Metallica dates, head here.
METALLICA's ROBERT TRUJILLO, KIRK HAMMETT Cover PINK FLOYD's 'Run Like Hell' In Kansas City (Video)
Robert Trujillo and Kirk Hammett celebrated David Gilmour's birthday by playing a cover version of PINK FLOYD's "Run Like Hell" during METALLICA's March 6 concert at the Sprint Center in Kansas City, Missouri. Professionally filmed video footage of their performance can be seen below.
"Run Like Hell" was part of the fun and unusual feature METALLICA added to its shows on the band's recent tours: at each stop, Hammett and Trujillo have been covering songs from some of their musical heroes — often choosing songs that are far removed from the band's traditional metal sound. The "doodles," as the band refers to them in their setlists, have been showing up right before Trujillo's solo on "(Anesthesia) Pulling Teeth". The songs are pared-down interpretations — just bass and guitar and sometimes Trujillo singing in front of music stands.
METALLICA kicked off the 2018/2019 U.S. leg of the "WorldWired" arena tour in September at the Kohl Center in Madison, Wisconsin.
The band is continuing to tour in support of its latest album, "Hardwired… To Self-Destruct", which debuted at No. 1 on The Billboard 200 album chart, selling 291,000 copies in its first week of release.
Art Alexakis to Bring His Songs & Stories Tour to House of Blues in June
Posted

By

Jeff Niesel on

Tue, Feb 12, 2019

at

3:46 pm
Earlier today, singer-songwriter Art Alexakis, frontman of the multi-platinum rock band Everclear, announced the dates of an "intimate" and "collaborative" acoustic tour.
Chris Collingwood (Fountains of Wayne), Max Collins (Eve 6) and John Wozniak (Marcy Playground) will join Alexakis on what he's calling the Songs and Stories tour.
The shows will also include a Q&A, special requests, and "come what may" banter.
The jaunt comes to House of Blues on June 6.
"I have been a huge fan of each of these artists for so long," says Alexakis in a press release about the tour. "Getting to showcase their singing and songwriting abilities in this way is going to be so special for all of us. These shows will still deliver a rock 'n' roll energy, but in a way that our fans have never experienced. We can't wait to have the opportunity to interact with our fans even more on this tour."
Alexakis, who has a new solo album in the works, will donate $1 per ticket sold at each show to Sweet Relief Musicians Fund, an organization that provides financial assistance to musicians, venue workers, production staff and crew members uffering from injury, illness or disability. Funds raised from the tour will pay for medical procedures, doctor visits, prescriptions and living expenses.
Tickets for the show go on sale on Friday.
Green Day and Pearl Jam among many artists to release exclusive content on Record Store Day
Hipsters everywhere rejoice, Record Store Day 2019 is right around the corner with new releases in music stores on April 13. Record Store Day is a day marked to celebrate independent shops around the world selling sweet-sounding vinyl records. Each year on the third Saturday of April, artists from around the globe compile music into one of three types of releases: "RSD limited run / regional focus," "RSD first" and "RSD exclusive."
RSD limited runs are releases typically limited to around 1,000 copies or less and won't be released on other formats. RSD firsts are releases which are only available at participating Record Store Day shops for a while and then will be released widely. RSD exclusives are releases available only on Record Store Day at participating stores.
This year's list of limited runs, firsts and exclusives is looking as good as ever. The list stretches on for a while, so to save some time here are the top records fans and collectors are looking to get their hands on.
"Live at Easy Street" by Pearl Jam– This year's RSD Ambassador, Pearl Jam, is reissuing the 2005 surprise concert at Seattle's Easy Street Records for a limited edition of 6,000 copies.

"Jeepster" and "Monolith" by Chad Smith and Josh Klinghoffer– Red Hot Chili Peppers members drummer Chad Smith and guitarist Josh Klinghoffer are covering the 1971 tracks by glam rock band T. Rex, limited to 2,250 copies.

"Everybody Here Hates You" and "Small Talk" by Courtney Barnett– Indie rocker Courtney Barnett is releasing a brand new single, "Everybody Here Hates You," exclusive to RSD with last year's "Small Talk" as the B-side, limited to 2,000 copies.

Various tracks by Third Man Records– In true Jack White fashion, the rock mainstay's label is releasing music on an unusual format: a 3" record. The record comes in a blank package which will contain one of four singles: "Candy Cane Children" by The White Stripes, "Store Bought Bones" by The Raconteurs, "Be Still" by The Dead Weather or "Love Interruption" by Jack White. To play the records, budget turntable manufacturer Crosley is selling a mini turntable for $70 just for Record Store Day. The records will come with a poster and are collectively limited to 2,000 copies.

"Big Me" by Foo Fighters– Rock titan Foo Fighters are hopping on the 3" record train and are releasing the 1995 single, "Big Me," which is able to be played on the Crosley 3" turntable. The record will come with a poster and is limited to 5,000 copies.

"Stairway to Nick John" by Mastodon– In tribute to heavy metal band Mastodon's manager who passed away Sept. 2018, the band is covering Led Zeppelin's "Stairway to Heaven." Led Zeppelin was John's favorite band according to a statement issued by Mastodon collectively. All proceeds will be donated to pancreatic cancer research which caused Nick John's death. Copies are limited to 1,500.

"Woodstock 1994" by Green Day– Rock and Roll Hall of Famer Green Day is releasing its infamous 1994 performance at Woodstock. The iconic 35 minute set was cut short due to the crowd slinging mud on the stage; the band had to be lifted out of the venue by helicopter. The release is limited to 6,800 copies.

"22° Lunar Halo" and "Variations On Darkness" by Sigur Rós– Icelandic avant-garde band Sigur Rós is releasing two soundtracks for different choreographed dances. "22° Lunar Halo" is for a dance piece of the same name by Taiwanese choreographer Cheng Tsung-lung, premiering in April. "Variations On Darkness" is for a series of performances by the Iceland Dance Company. Both releases are limited to 2,000 copies each.
Exclusive: Foo Fighters' Chris Shiflett debuts new single 'This Ol World' and announces UK and European tour
"How can you not be affected by what the fuck is happening?"
Foo Fighters guitarist Chris Shiflett has debuted new single 'This Ol World' and announced details of a UK and European tour this spring. Check out the single and tour dates exclusively on NME below.
The new track is the first offering from Shiflett's forthcoming solo album – and it sees him tackling the state of the world in 2019.
Speaking to
NME
, the Foos axeman explained how his new take on country rock was directly inspired by both Brexit and Donald Trump's election as US President in 2016.
"It's always a struggle to write songs about current events or politics, but how can you not be affected by what the fuck is happening?," explained Shiflett. "Over here we've got Trump and over there  in the UK you've got Brexit and Farage. It seems like every western country is dealing with its own version of Trumpism and the rejection of the status quo and liberal policies."
While neither event is specifically referenced on the track, Shiflett says he aimed to stay deliberately vague.
"In the early drafts of 'This Ol World' it just sounded a little too preachy and came off sounding like a pretentious article," he continued. "I like my lyrics to be specific, but I wanted that one to be quite vague because regardless of your world views, maybe there's something in there you can relate to.
"I wrote it after the 2016 election when you had left wing populism represented in the Bernie Sanders campaign and right wing populism in the Trump campaign. They're very two different things, but inspired by the same thing.
"That same thing is a rot in the system. To me, the powers have under-represented the masses for a long time and it represents itself, depending on your world view, as coming out of the same issues."
When asked if the song is a wider reflection of his next album, Shiflett said that his second solo record will head in a rockier direction – after experimenting with country on his 2017 debut 'West Coast Town.'
"There's definitely more rock than my last album.  It's more guitar driven, although that sounds like a funny thing to say when so much of my stuff is guitar driven," Shiflett said.
"But I like exploring sounds that I don't get to play with. 'West Coast Town' from my last record was super pedal steel heavy, and this new one definitely has crunchier guitar tones and it's more of a rock and roll record."
Fans will get the chance to see Chris when he heads out on tour in March and April – including shows in London, Manchester and Glasgow. Check out those dates in full below.
MARCH
30 – The Grand Social, DUBLIN
31 – The Haunt, BRIGHTON
APRIL
1 – Omeara, LONDON
2 – The Fleece, BRISTOL
4 – Night & Day, MANCHESTER
5 – Classic Grand, GLASGOW
6 – La Bell Angle, EDINBURGH
8 – John Dee Club, OSLO
9 – Pumphuest, COPENHAGEN
10 – Nalen Klubb, STOCKHOLM
Major Update On Pearl Jam Hiatus, Is 2019 Tour Planned?
Pearl Jam expert and insider dimitrispearljam recently reported on the Ten Club boards that Pearl Jam do not currently have any 2019 shows booked, so fans hoping that there are secret shows on the books shouldn't start making plans, as the band is currently on hiatus from touring.
He posted, "Till now, No pj shows booked for 2019."
He later posted, "NO SHOWS BOOKED..NOTHING."
Eddie Vedder stated last year that the next time Pearl Jam would play together would be in a studio.
There had been talk that Pearl Jam would play Woodstock's 50th anniversary show in August, but promoter interest doesn't necessarily make booking them a reality. Also while no shows are currently booked, plans could always change later in the year.
Billboard reported today that a lineup for Woodstock has been secured, and artists have been paid in full after some delays with the people funding the festival. With the deposits now paid, the lineup for the festival will likely be announced in the next two weeks, Billboard has learned. Artists such as Dead and Company, Santana, The Killers, Imagine Dragons and Chance the Rapper will be performing at the festival, which is taking place at the Watkins Glen International Speedway, about an hour-and-a-half east of the original Woodstock site, where non-profit Bethel Woods is planning its own tribute at its 15,000-person amphitheater with Live Nation.
"There's always been lots of rumors around Woodstock," Lang said in a statement to Billboard. "We have excellent partners and an incredible talent lineup of over 80 artists which will be announced within the next couple of weeks. We're preparing a once in a lifetime event."