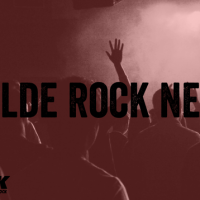 HALESTORM'S LZZY HALE PICKS FAVORITE MOVIE OF 2018   (STORY FROM REVOLVER.COM)
Find out what film made Hale realize, "You know what? I think we're doing it right."
Recently, Revolver jumped on the phone with Lzzy Hale, who just earned her second Grammy nomination with Halestorm, in the Best Rock Performance category for "Uncomfortable" — the lead single off the band's fourth album Vicious. We asked her to wrap up 2018 by sharing her favorite movie that came out this year, and she picked the Queen biopic BohemianRhapsody as a movie that stood out to her in particular.
"I related to it in a different way. I've been in a band for a long time, and I think what they captured in that movie is the relationship between the bandmates," explained Hale. "For one minute you're like, 'I'm about to quit and I hate your hair, and you're all a bunch of assholes!' And then someone plays a bass line and you're like, 'Wait, actually, that's pretty cool.' Then everyone becomes friends again. In a very cartoon way, [the movie] made me think, 'You know what? I think we're doing it right."
There you have it. It's OK to want to kill your bandmates every now and then, as long as you're still able to bond over a great studio session. Expect more from our interview with Lzzy in the coming weeks, and if you haven't already, check out Bohemian Rhapsody.
Daughter signs lyrics to deaf dad at concert in beautiful moment captured on video  (STORY FROM USA TODAY)
A 19-year-old daughter signs a Three Days Grace song to her deaf dad during the rock concert.Humankind, USA TODAY
A daughter seen signing to her deaf father at a Three Days Grace concert last week has gone viral as "the coolest thing on the internet right now."
The teen was spotted in the crowd at a concert in Edmonton, Canada, last week signing and mouthing lyrics facing sideways towards her father, who is deaf. Kari Carberry, 19, said she noticed people recording her, CNN reports, but was enjoying the moment with her dad, who was born deaf but wears a hearing aid.
Another concertgoer, Jules Maria, posted the video of the "absolutely beautiful" moment online saying "watching them was absolutely mesmerizing. They were both very sweet and her father was very proud of his daughter."
Three Days Grace also shared Maria's video, calling the father-daughter moment "so sweet."
Carberry said since the video went viral, the band's drummer Neil Sanderson reached out to her, according to CNN, saying the moment was amazing.
Ex-THE BLACK CROWES Guitarist RICH ROBINSON: 'I Don't Have A Brother Anymore'   (STORY FROM BLABBERMOUTH.NET)
Joe Rock of West Babylon, New York's WBAB radio station recently conducted an interview with former THE BLACK CROWES and current THE MAGPIE SALUTE guitarist Rich Robinson. During the chat, which can be heard at this location, Rich once again said that there is little hope for a reunion of the group he formed with his older brother, singer Chris Robinson.

"Being in a band [editor's note: referring to THE MAGPIE SALUTE] that seems a lot more functional now, I wouldn't really ever wanna wish to play in THE CROWES again," he said. "It's too toxic.

"I don't have a brother anymore," he continued. "I don't speak to him. We don't speak. I haven't spoken to him in four years. And I think that that is what it is. So I would never wanna go down that road again.

"It is a shame that it became about money, which it did. Regardless of how Chris wanted to spin it, or whatever it was, or he can go on 'Howard Stern' and say that I'm in a cover band, or whatever he does and says, and then puts together a cover band with musicians that never played on BLACK CROWES records to tour, like he did last year, or this year. Ultimately, he wanted everyone's money. He felt that he was more important and bigger and better than everyone else, and that's delusional and not the case, and I just felt like it wasn't very righteous to live that way. And so the band split up. And now, with getting a few years away from it, I'm pretty happy it did, because I wouldn't have been in this situation that I feel like I can really add to something that is never gonna go down that road. We're vigilant about not letting it go down that road."

THE BLACK CROWES played their final show in December 2013.

Chris Robinson recently put together a band called AS THE CROW FLIES to perform primarily BLACK CROWES songs. Joining the singer in the new group are fellow former CROWESmembers Adam MacDougall, Andy Hess and Audley Freed, plus Marcus King and Tony Leone.

In an interview with Rolling Stone, Chris Robinson was asked whether he misses his estranged brother. He responded: "All of us have our lives and I wish him all the best and I only want him to be happy, healthy and safe with his family and the people that he loves. Other than that, no."

THE MAGPIE SALUTE, which features Rich Robinson and Marc Ford from THE BLACK CROWES, bassist Sven Pipien (also from the CROWES) along with lead singer John Hogg(HOOKAH BROWN, MOKE), drummer Joe Magistro and guitarist Nico Bereciartua, will release its debut album, "High Water I", on August 10. It is the follow-up to last year's "The Magpie Salute (Live)", which was largely recorded in front of a studio audience in Woodstock, New York.
Grammys Explain Bullshit That Led To Disrespect Of Alice In Chains & Metallica  (STORY FROM ALTERNATIVE NATION)
In a new Loudwire article, The Recording Academy's Head of Awards, Bill Freimuth explained the bureaucratic Grammy selection process and how it has changed over the years. An incident where Jethro Tull embarrassingly beat Metallica is referenced, and while the process changed, it has still led to bands including Alice In Chains frequently getting snubbed. Alice In Chains have been snubbed from a victory for decades despite several nominations. Layne Staley made his final public appearance at the 1997 Grammys, and stated it would be a dream come true to win an award.

"I wasn't here at that time and I don't weigh in on the choices made by our voters," Freimuth stated lightheartedly. "What happened as a result of that particular situation is that we've made a change to our process where we added this whole layer called screening committees. We now have 24 different committees of people ranging in size anywhere from 15 to 70 people who sit around and listen to all the music and make sure that it gets to the right category so something like that doesn't embarrass us again."

Alice In Chains's Rainier Fog has been nominated for a 2019 Grammy. Could the Grammys bureaucratic committee finally show them the respect they deserve with a victory? We'll have to wait and see.
PUDDLE OF MUDD To Release 'Really Badass' New Album In 2019 (STORY FROM BLABBERMOUTH.NET)
PUDDLE OF MUDD frontman Wes Scantlin says that fans can expect to hear fresh music from the band next year. "We're coming out with a new record and it's really badass," he told the Rock 100.5 The KATT radio station in a new interview (see video below). "We worked our butt off on it, and I can't wait to get it out. Coming soon."

Asked if he could provide any insight into the sound of the new PUDDLE OF MUDD record, Wessaid: "It's just a bunch of great songs, man — heartfelt and true to PUDDLE OF MUDD form."

PUDDLE OF MUDD's last album, "Volume 4: Songs In The Key Of Love & Hate", came out in 2009. A covers disc, "re(disc)overed", followed in 2011. A standalone new song, "Piece Of The Action", was released in 2014 via iTunes.

PUDDLE OF MUDD broke into the mainstream with 2001's "Come Clean", which yielded three hits — "Control", "Blurry" and "She Hates Me".

Earlier this year, Scantlin said that he finally got his life together after years of legal troubles, canceled or disrupted shows and arrests for disorderly or drunken behavior.

Scantlin said that he ended up going back to rehab and receiving treatment "because there's really nowhere else to go." He also credited his family and fans for giving him the strength to try to get better.