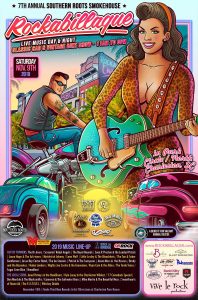 7TH ANNUAL ROCKABILLAQUE!
SOUTHERN ROOTS SMOKEHOUSE PRESENTS
THE BIGGEST EVENT OF ITS KIND IN THE CAROLINAS
Action-Packed Day & Night with Over 30 Music Acts, Classic Car & Vintage Bike Show,
Epic Block Party, Contests & More in Park Circle/North Charleston, SC
Rockabillaque (Rock-A-Bill-A-Que) returns for its 7th year on Saturday, November 9th in the Park Circle
neighborhood of North Charleston, SC, benefiting Valiant Animal Rescue. The event is FREE to attend, night and day.
Last year over 14,000 people attended, this year brings music acts from all over the map,
a bigger car & bike show, a new festival layout and an expanded schedule.
Join the party and celebrate mid-century Americana in the heart of Park Circle!
Friday, November 8th: Kick-Off / Rockabillaque Brew Release Party at Commonhouse Aleworks. The premiere of a special brew collaboration between Commonhouse & Holy City Brewing includes live music from Sugar Lime Blue
Saturday, November 9th: The Main Event / Rockabillaque Festival kicks off at 11AM on the main strip of Park Circle, closing off traffic along East Montague Avenue between the front of the North Charleston High School to Virginia Avenue and includes select side streets (see map of festival layout on the website). This is the largest closure for the Festival that we have done yet to allow more cars and bikes, vendors and attendees to enjoy the festival.
Classic Car & Vintage Bike Show (11AM-6PM) and Show Awards (4:30PM) is presented by American Biker, Parks Auto Parts, Elliot Remington, OS Performance and Riders Law Group. We have expanded the Car & Bike Show with more blocks dedicated to vehicles in show, we are expecting over 300 cars and bikes to participate. Pre-registration online is $15 for cars and bikes ($20 day of show), registration and show parking begins at 7:30AM. Only pre-registered can park until 8:30am. Car & bike show categories, along with additional details, can be found on our website.
Live Music takes all day from 11AM-6PM on five outdoor stages, and into night (6PM and on) at Park Circle venues.
2019 Music Line-Up includes National Acts: The Hi-Jivers (TN), Screamin' Rebel Angels (NYC), The Royal Hounds (TN), Sean K Preston & the Loaded Pistols (MD), Laura Hope & The Ark-tones (NY), Matchstick Johnny (FL),  Lone Wolf (FL), Little Lesley & The Bloodshots (NYC), The Tan and Sober Gentlemen (NC), Jesse Ray Carter Band (VA), The Bo-Stevens (NC), Patrick and The Swayzees (FL), Jason Moss and the Hosses (NC), Brady and the Bazookas (GA), Vaden Landers (NC), Mighty Joe Castro & the Gravamen (PA), Ryan Cain and the Ables (WV), The Tomb Tones (GA), Sugar Lime Blue (TN), Breadfoot (NC). Charleston Acts: Jared Petteys and the Headliners, Kyle Lacey and the Charleston Wildest, '68 Comeback Special, Don Merckle & The Blacksmiths, Cameron & The Saltwater Brass, Mike Martin & The Beautiful Mess, Sweethearts of Route 66 (featuring Jordan Igoe and She Returns From War), The F.I.S.T.E.R.S., Whiskey Diablo. Line-up includes an eclectic mix of rockabilly, roots rock, psychobilly, Americana and honky tonk.
Contests & Events include the Beard & Mustache Competition (2PM), hosted by Holy City Beard & Mustache Society, Tattoo Contest (2:30PM), Miss Rockabillaque Pin-Up Contest (3PM), and the Mr. Man Challenges Contest (4PM), which features "Man Challenges" including bench pressing a pin-up, cocktail head balance, PBR juggle, kickstarting a bike and more. Plus our Doggie & Me and Kids Tattoo Contests.
Pin-Up Makeover Booth (11AM-6PM) featuring Makeovers, Classic Styling's and sponsor products.
Kids Activities & Events to include a Kid's Tattoo Contest (2:45PM), kids crafts, face painting and more!
Sunday, November 10th – New Finale Show: Third Man Records Artist Olivia Jean will headline at the Charleston Pour House, this special showcase will close out the festival weekend. Advance tickets are $10. At the age of 19, Olivia Jean caught the attention of Jack White who signed her his record label, she just finished a tour with The Raconteurs.
Official Liquor Sponsors: Tito's Handmade Vodka, Jack Daniels: Original. Honey, Fire and Apple. Specialty Cocktails will be available at participating venues. Barrel House Spirits is the Official Liquor Store of Rockabillaque.
Official Beer Sponsors: Pabst Blue Ribbon, Commonhouse Aleworks and Holy City Brewing.
Park Circle Venues include Southern Roots Smokehouse, The Sparrow, The Mill, DIG In The Park and Commonhouse Aleworks. Other participating businesses include The Brew Cellar, The Orange Spot, EVO Pizza, YoBo Cantina Fresca, Fratello's Italian Tavern, The Codfather, The Junction, Sesame, LoLA, Stems & Skins, Idle Hour Diner and more.
Rockabillaque Festival benefits Valiant Animal Rescue, a nonprofit 501(c)(3) organization specializing in emergency animal disaster relief, cruelty seizes, and the rehabilitation and rehoming of abused and neglected animals.
Rockabillaque Music & Events Schedule and Contest Registration: Full Events Schedule, Music Line-Up, Classic Car & Vintage Bike Show Registration, Pin-Up Contest Registration, Festival Map and more found at www.Rockabillaque.com. RSVP at the Facebook Event page here: www.facebook.com/events/1879953555461059/